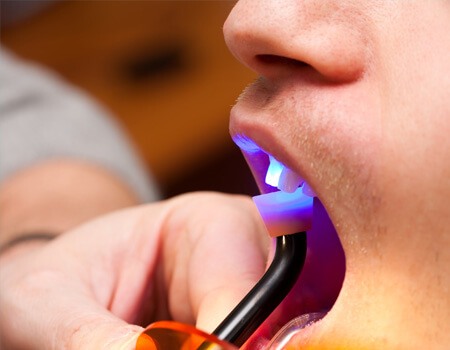 Dental bonding is a very common solution to improve the appearance of chipped, fractured, or discolored teeth. It can also help to make teeth appear longer and fill in the gaps between teeth. It is important to note that bonding is only ideal for minor cosmetic and aesthetic corrections. It is not a substitute for more advanced
cosmetic dentistry
treatment.
Teeth bonding is one of the easiest and most cost-effective types of cosmetic dentistry. It is also a fairly simple process that can generally be done in one dental visit. The first step is to select the shade that best matches the color of your natural teeth. If you are wanting a lighter shade than your natural teeth, teeth whitening (in the office or at home) may be done prior to the bonding appointment to achieve the ideal shade. Once the color has been selected, the surface of your teeth is prepared, bonding agents are applied and then the resin is placed. Once the look and feel of your teeth are just right, an ultraviolet light is used to harden and hold everything in it's place. Then the doctor will polish and adjust the bonding to make it look and feel just like your natural teeth.
Dark drinks such as tea and coffee, along with cigarette smoke, can cause stains on your natural teeth and the resin used in bonding. In order to keep your smile looking great, we recommend avoiding these types of products for at least 48 hours after treatment. It's important to understand that once the resin is placed, the color cannot be adjusted without removing the resin and starting the process over. To care for your new bonding, it's important to continue to brush twice daily and floss once daily to keep your smile in winning shape.​
For more information about dental bonding, call Victory Dental Group at 719.473.9222.