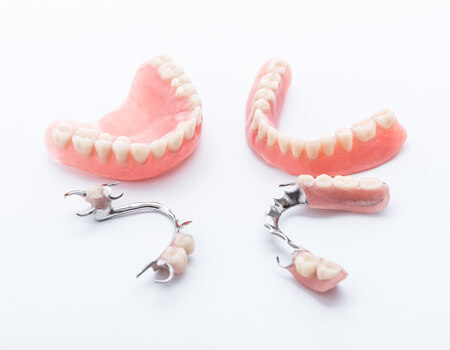 Victory Dental Group is proud to offer dentures to patients who suffer from missing teeth. While dentures are one of the oldest forms of restorative dentistry, they have evolved greatly with technology.
What are dentures?
Dentures are removable appliances that can replace missing teeth and help restore your smile. There are two types of dentures: partial and full. Partial dentures are designed to replace a few missing teeth, while full dentures are meant to replace all of your teeth. It is routine to fabricate implant-supported dentures. These dentures offer amazing benefits, with one being that they will always stay in place. During your consultation with Dr. Koplow, he will walk you through your denture options and create a winning treatment plan for your winning smile.
What are the benefits of dentures?
Regardless of the cause of your missing teeth, replacing them will benefit your overall health and your appearance. Dentures make it easier to eat and speak, as well as provide support to your facial muscles and jaw line. Dentures are made to resemble your natural teeth, too, helping to restore your confidence and quality of life.
Improve your facial appearance
Eat your favorite foods
Enhance your self-esteem
Improve your health
Benefit from a durable restorative solution
If you are interested in learning more about dentures, please contact Dr. Koplow in Colorado Springs today to schedule your appointment! Call our office at 719.473.9222.